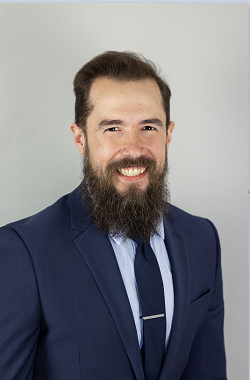 Keith Amaral is a true example of someone who has had internal support throughout his career. He began as a Contact Center Representative at BankFive more than 8 years ago. After being promoted to a Senior Contact Center Representative, he decided to switch gears and applied for a position in BankFive's Risk Management and Compliance Department. Keith is currently a Risk and Compliance Analyst. He monitors transactions and reporting to ensure compliance with regulations and help minimize fraud.
Keith says, "It's a great role for the detail-oriented detective, as we identify and investigate potential problems, ideally resolving them with no negative impact to the Bank or our customers. We're an important line of defense - and being Sherlock is the next best thing to being Batman!"
With a passion for communication, Keith received his Bachelor of Arts in English from UMass Dartmouth. Before joining BankFive, he worked as an Assistant Manager at Tedeschi Food Shops and as a Freelance Journalist for Tiverton Patch. If his career path hadn't led him to banking, Keith says he likely would have been a writer in some capacity - whether journalism, copywriting, or technical writing.
Working out of our Main Office, Keith has a pretty short commute from his home in Fall River. BankFive has also allowed him to give back to his local community. Keith is part of BankFive's Charitable Giving Committee and is an active volunteer with both the United Way of Greater New Bedford and the United Way of Greater Fall River. He also volunteers with Junior Achievement, an organization dedicated to educating students in grades K-12 about financial literacy and work readiness.
"BankFive encourages engagement within the community in every capacity, from its products and services to the basics of rolling up one's sleeves and being more hands on. It's great to get both professional and personal fulfillment from your employer. Over the past year, I've gotten to work with Junior Achievement, and the opportunities I've had to visit classrooms and talk to kids about financial literacy have been highlights of my time here," Keith says about his community involvement at BankFive.
Keith is also an avid runner and tries to log at least 18 miles a week. Also describing himself as "a big nerd" with a longtime love for reading comic books, Keith says he will never outgrow Batman. Although - he has been seen with his Ironman helmet on in the office during crunch time!
We're always looking for talented and dedicated individuals like Keith to join the BankFive team. To learn more about employment at BankFive, including our benefits and current available positions, visit our
Careers
page.