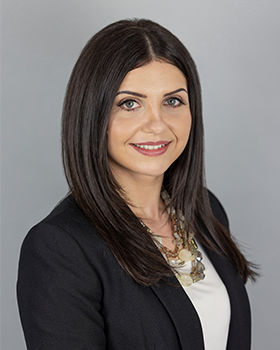 Vaida Armas is just one of many great examples of employees who have advanced in their career internally at BankFive. Vaida began at BankFive in 2015 as a teller in our Dartmouth branch. From there, she worked as a Branch Assistant in Dartmouth and Assistant Branch Manager in our Express, North and Fairhaven offices before transitioning to her current role of Mortgage Loan Processor in 2020.

Coming to the United States from Lithuania, BankFive was Vaida's first employer in the country. Prior to joining BankFive she worked as a Retail Sales Associate in Lithuania. She holds a bachelor's degree of Management and Business Administration from Siauliai University, Lithuania. While obtaining her degree, Vaida also had the opportunity to study abroad at the University of the Azores, Portugal. After completing her semester abroad, she accepted an internship at a local Azorean business.

As a Mortgage Loan Processor, Vaida's main goal is to "move the files to the finish line." This includes obtaining and reviewing supporting documentation for completeness and consistency as well as keeping track of deadlines to ensure that the loan is complete and ready for closing. These responsibilities require communication with vendors, loan officers and borrowers for any additional documentation that may be required.

Vaida's hard work and attention to detail have pushed her to success in her role. Her commitment to professional development can be seen in the fact that she also holds certifications as a Universal Banker, Certified Mortgage Data Processor and Notary Public.

Vaida now resides in Westport and has supported her local community by volunteering at the Salvation Army of New Bedford. She also received the Loaned Executive Award from the United Way of Greater New Bedford for her work on their 2019-2020 campaign.

When asked what she likes most about working at BankFive, Vaida says, "The culture and leadership. There is a lot of room for growth and advancement as well as volunteer opportunities. Everyone's voice is heard at BankFive and I enjoy being part of this supportive team." We're so lucky Vaida's journey brought her to BankFive!

We're always looking for talented and dedicated individuals like Vaida to join the BankFive team. To learn more about employment at BankFive, including our benefits and current available positions, visit our Careers page.