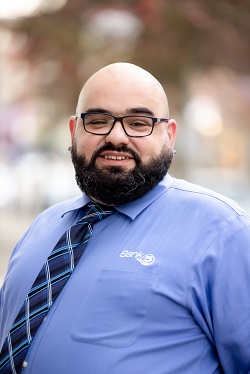 Gualter Chaves' interest in numbers has led him to a 22-year career in banking. Recently promoted to the position of Banking Officer, Disclosure Desk Supervisor, Gualter has been with BankFive for 17 years. Prior to that, he worked as a Call Center Representative at Sovereign Bank and as a Closer/Post Closer at FirstFed.
Since joining BankFive in 2005, Gualter has held the titles of Closing Coordinator, Post Closer, and Secondary Market Specialist. He has found his place in the lending department, earning the nickname "Super G" by his colleagues.
A resident of Fall River, Gualter works out of our Corporate Office where he is responsible for ensuring compliance of applicable laws and regulations for residential mortgage disclosures. His duties include tracking the timing of when the disclosures are sent and returned, so customers can move on to the next phase of the mortgage process.
Gualter holds a bachelor's degree in accounting from New England College of Business. Citing his best subject in school as math, he says, "it improves your analytical abilities and can be applied to all aspects of your life."
Outside of work, Gualter enjoys running and nature walks. He is also bilingual in Portuguese and English. If he hadn't found a career in banking, Gualter says he would likely be teacher. "I love to work with children. As a former catechist and coordinator of faith formation, I know that teachers have a direct influence in a student's life. They're really able to make a difference."
When asked what he likes about working at BankFive, Gualter gave us his top 5 reasons:
BankFive employees have become family.
There's great collaboration within departments.
Everyone works as a team, pitching in to get the job done - especially when it's busy!
The BankFive culture.
Each day brings a new challenge with a sense of accomplishment at the end of it.
We're always looking for talented and dedicated individuals like Gualter to join the BankFive team. To learn more about employment at BankFive, including our benefits and current available positions, visit our
Careers page
.