Entrepreneurship for All (EforAll) and BankFive are pleased to announce BankFive has committed to a new sponsorship level: Southern New England Regional Sponsor. The $300,000 commitment is designed to mirror the Bank's footprint and commitment to the South Coast, Cape Cod and Rhode Island communities. Through this distinctive three-year partnership, the EforAll South Coast community will receive $50,000 per year and EforAll Cape Cod and Rhode Island communities will be granted $25,000 per year. The Southern New England Regional Sponsor is the perfect partnership between the nonprofit committed to helping typically under-represented individuals start a business in the communities it serves and the 166 year old community bank.
BankFive CEO Anne Tangen remarked, "BankFive was started by entrepreneurs in 1855 who wanted to provide accessible and affordable financial services to their employees and neighbors. BankFive and EforAll are so well aligned in their missions and this sponsorship supports our dedication to the creation, nutriment, and development of small businesses in our area. Furthermore, BankFive and EforAll work to accelerate economic and social impact through inclusive business growth. We are especially proud of the work EforAll does to make entrepreneurship accessible to everyone in our community as this aligns with our core values of Human, Dynamic and Steadfast."
BankFive has been involved with EforAll South Coast since its first program launched in 2016. Since then, 128 ventures have graduated from the EforAll South Coast program alone, generating over $6M in revenue and providing 308 local jobs in 2020. According to Donna Criscuolo, EforAll South Coast Executive Director, "Partnerships like one that EforAll has with BankFive enable us to have an even bigger impact in the local community. We are thrilled to have the support of such an esteemed local organization as BankFive who shares our commitment to the Southern New England areas we serve.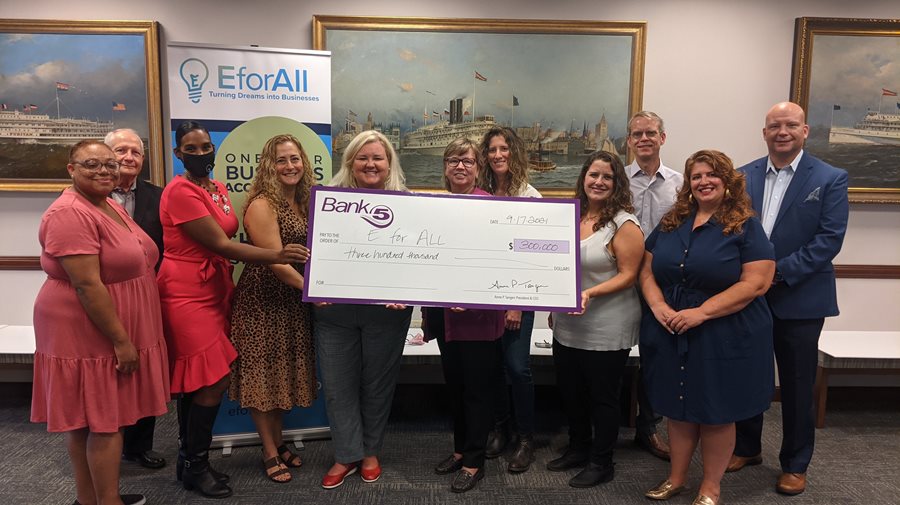 Pictured L-R: Von Marie Moniz, Program Support Manager, EforAll, Tom Foley, Advisory Board, EforAll South Coast, Samia Walker – Program Manager, EforAll South Coast, Donna Criscuolo, Executive Director EforAll South Coast, Catherine Dillon, EVP & Chief Growth Officer, BankFive, Anne P. Tangen, President & CEO, BankFive, Christin Marshall, Executive Director, EforAll Cape Cod, Amanda Kaiser, Program Manager, EforAll Cape Cod, David Parker, CEO EforAll, Shelley Cardoos, COO EforAll
About EforAll
Entrepreneurship for All (EforAll) is a nonprofit organization that partners with communities nationwide to help under-represented individuals successfully start and grow a business through intensive business training, mentorship and an extended professional support network. To date, EforAll alumni have launched over 700 businesses. In 2020 alone, its businesses provided more than 1,300 local jobs and generated over $43M in revenue, despite the pandemic. Programs are available in both English and Spanish. EforAll current locations include Buffalo, NY; Longmont, Colo.; Northwest Arkansas; and the following Massachusetts communities: Berkshire County, Cape Cod, Fall River/New Bedford, Worcester, Holyoke, Lawrence, Lowell, Lynn, and Roxbury. To learn more about EforAll, please visit eforall.org.