Caitlin Cabral, owner of Hand & Halo, says she didn't set out to start her own business. Four years ago, when her aunt passed away, she took flowers from the funeral in hopes of creating something tangible for her grieving cousins. She began making flower beads for items like keychains and rosaries, and today her products have evolved to include resin preservation as well.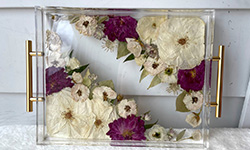 "It started from having this passion to try and help people after a loss," she says. Word spread, and more and more people began bringing their flowers to Caitlin to preserve. From there, Hand & Halo has slowly morphed into what it is today.

Hand & Halo preserves keepsakes in resin blocks, spheres, and prisms, as well as in pendants, rings, and keychains. Although the business was born from funeral flowers, the bulk of Hand & Halo's orders are currently for wedding floral preservation. Newlyweds can have their flowers preserved as displayable art blocks, customized trays, ornaments, bookends, and more.

Although Caitlin loves working with brides and grooms, she does not forget her roots. "Funeral customers are so important to me. They're grieving a loss, so it feels good to provide a little bit of a light in their shadow." In addition to preserving funeral flowers, Hand & Halo also offers preservation of ashes.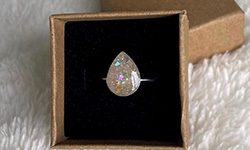 Breast milk preservation in pendants, rings and bracelets is also close to Caitlin's heart, as her sister lost her baby at just three months old. Hand & Halo now donates all proceeds from breast milk jewelry to the Adalyn Rose Foundation, which supports families who have gone through infant loss.

Caitlin has a background in art and attended UMass Dartmouth for Photography. She also worked as a wedding photographer before having her two children. Hand & Halo provides more flexibility than her wedding photography business did, and allows her to not miss as many moments in her children's lives.

Caitlin was part of EforAll South Coast's Summer 2022 cohort, where she participated in the Business Accelerator Program. This program provides immersive business training and mentorship to those growing a small business. "My mentors were so great about letting me bombard them with questions and offering advice. It's really a program where, if you put the work into it, you're going to get a lot out of it." After completing the Business Accelerator, Hand & Halo was also awarded a grant at the EforAll South Coast Showcase & Celebration in October 2022.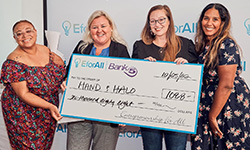 Social media has played a large role in Hand & Halo's success. Caitlin uses Instagram and Facebook to communicate with clients and prospective customers. In January 2022, the business had over 10 million views on an Instagram video showing preserved roses. Hand & Halo's social media reach has led to customers from across the U.S., Canada, and Mexico.

Reflecting on how Hand & Halo has gotten to where it is today, Caitlin attributes her success to perseverance, and support from her husband and others. "There were a lot of moments when I was tired and stressed, but I just kept going. I don't ever want someone to walk away with a Hand & Halo product and not be happy with what they've received."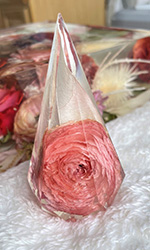 As for what's next for the business, Caitlin is planning to launch a website in the coming months and continue hiring. She is also looking to expand her product offerings. One of her goals is to be featured on TheKnot.com, so that brides can add her products to their registry lists. In the meantime, Hand & Halo offers gift cards for those wanting to give preserved florals as a wedding present.

Caitlin's advice for other small business owners is simple: "Just try and do one thing for your business every day. Even if it's just sending an email that you've been putting off. I think that's really helped get me to where I am today."

We recognize all of the hard work that Caitlin has put into Hand & Halo, and we're so glad that she chose BankFive for her business banking needs. Caitlin says, "I knew that I didn't want a huge bank. I emailed one of BankFive's Business Development Officers, and she met with me in Fairhaven to set up my business accounts. I'm really happy that I was able to meet with someone face-to-face, and I now have someone I can contact with any questions in the future."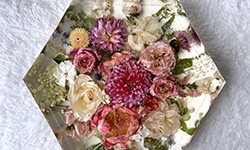 We're excited to see where Caitlin will take Hand & Halo next, and we look forward to helping other small business owners grow their businesses as well. You can find Hand & Halo on Instagram and Facebook – and keep an eye out for Hand & Halo products at local businesses!