When Kevin Wong and his business partners created their business model for a cannabis manufacturing laboratory, they knew they weren't reinventing the wheel. "It happens in every other industry," Kevin says. "Manufacturing resources are outsourced so that retailers can focus their capital and resources on growing their pipeline, branding, and marketing. We just took something we saw that was prevalent in other industries and was really lacking within the cannabis industry."

With cannabis becoming legalized for recreational use in a growing number of states, there is a large focus on cultivators and retail dispensaries. However, Kevin and his team saw the need for more manufacturing infrastructure within the industry. From this, Clean Technique was born. Clean Technique empowers resource-limited cannabis companies by providing comprehensive manufacturing infrastructure, fortified by a commitment to quality, science, and data analytics.

Clean Technique's goal is to manufacture and co-pack products for cannabis operators who have a great idea but who might not have the infrastructure or resources to bring those products to market. "We're really trying to provide additional bandwidth for those operators so they can focus on growing their brand and let us help with the dirty work," says Kevin.

To start, Clean Technique will be mainly focused on manufacturing vapes and tinctures, but Kevin says they'll be reactive to market demands. Coming from data-driven professions, the company's co-founders plan to stick to what they know best by keeping a pulse on products which are driving the market and adapting their infrastructure accordingly. "Instead of guessing where the cannabis market is going, which has proven to be a moving target, we really just follow the data and try to be reactive to what the actual market wants instead of speculating," Kevin says.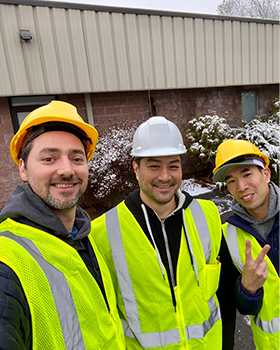 As the CEO of Clean Technique, Kevin holds a Bachelor of Science Degree in Physical Therapy/Exercise Science from Ithaca College and worked as a Senior Sales Consultant for Thermo Fisher Scientific before leaving his job in 2019 to start Clean Technique. His fellow co-founders, Robert Pervere, Tymofey Wowk, and Cyson Wong, help round things out with backgrounds in healthcare, finance and academia.

The four partners saw an opportunity in a field that they had an interest in, and thought, why not? "We were just working professionals before this with normal jobs. We were at a crossroads in life and thought we can either keep doing what we're doing – or participate in the birth of an industry that we're passionate about," says Kevin.

For Kevin, cannabis became a stress-reliever as part of a therapeutic wellness routine as he entered the professional work world in biotech after college. However, it wasn't until he and his family saw the impact cannabis had on his father while battling stage-four lung cancer that really reinforced Kevin's career change.

"Cannabis increased [my father's] quality of life as opposed to the chemo he was on that just made him a shell of a person. Even my mother saw that when he ate these [cannabis] gummies, he actually laughed, he was actually able to hold food down. My mom and sister have never touched cannabis before, but they really saw the benefits of what it could do from a wellness and medicinal perspective," Kevin says. In fact, his mother and sister were so intrigued by the therapeutic benefits of cannabis, that they became two of the first investors in Clean Technique.

With the cannabis industry being so heavily regulated, getting Clean Technique off the ground has not been the easiest task. Accessing capital has proven to be one of the most challenging parts. Starting out, the company was 100% funded by its co-founders and their family and friends. However, Kevin says this was really a blessing in disguise as it made them extremely risk-averse and frugal with their finances. Big institutional investors just didn't see the vision of the company, which caused them to battle test their business model time and time again to ensure its feasibility.

It wasn't until Clean Technique was introduced to BankFive's Commercial Lender, Lynn Motta and Business Development Officer, Victoria Stockbarger, that they felt they had found a financing partner. "It was really refreshing," Kevin says. "The people at BankFive listened to our business model and the logic of why it would work in cannabis. It was the first time a potential capital partner actually listened to the idea and valued our team's previous experience."

With the legalization of marijuana in Massachusetts, Kevin believes that the industry's growth is just getting started. "The market will really explode when people get comfortable with the different cannabis form factors and are confident that the product quality is what it's supposed to be. Things like drinks and edibles really do help facilitate that as it is a more familiar form of consumption. People are slowly learning more about the benefits of cannabis, and the social stigma is starting to lift," he says.

When asked what the most rewarding part of starting Clean Technique has been so far, Kevin says every aspect has been a huge win for his team, especially with all of the red tape around the cannabis industry. Even finding a building for operations was a challenge due to zoning restrictions and rental price gouging once landlords recognized it was a cannabis-related business. Through their family's financial support however, they were able to purchase their own building in Westfield, MA.

Clean Technique is slated to begin production by early summer from their 9,150 square foot headquarters. "It's been a long road and I've been lucky to have my family and friend's support," Kevin says. "Kudos to BankFive as well in terms of just being very human and taking the time to really understand who they were working with, which I think is very rare, especially for financial institutions who are capitalizing cannabis companies."

The end goal for Clean Technique is to become the go-to cannabis manufacturing partner in Massachusetts, Rhode Island, and any nearby states where cannabis is legalized in the future.

BankFive is proud to have had a hand in Clean Technique's start, and we look forward to helping them and other cannabis-related businesses as they grow. For additional information on Clean Technique, visit CleanTechniqueLabs.com.