Fall River-based community bank, BankFive, and the SouthCoast Community Foundation today announced that Fall River resident Malachia Nobre is the inaugural recipient of the President's Scholarship Fund. Nobre is a Fall River resident and a senior at B.M.C Durfee High School attending Cornell University in the fall and studying veterinary science.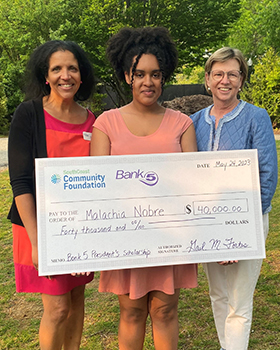 The $1.2 million scholarship fund was established late last year to honor the memory of past presidents & CEOs of BankFive. The fund provides a four-year scholarship to one or more graduating seniors from Bristol County, MA and Bristol and Newport Counties, RI, while attending an accredited college or university. This scholarship is awarded with consideration of either academic achievement or financial need. The scholarship is renewable each year that the student is enrolled full-time and meets eligibility requirements.
"I worked very hard so that my family does not have to suffer the burden of paying for my tuition and to make my family proud to break generational cycles and create wealth….getting this scholarship would truly change my life and the lives of people in my community who are facing similar struggles. A lot of people are barely staying afloat, living paycheck to paycheck, and suffer from a lack of generational wealth and systemic barriers," said Malachia Nobre. "After graduating college with a degree in animal behavior with a minor in psychology and business, I hope to open a service dog training facility known for its work in helping low-income, disabled people mitigate their struggles by using service animals. My goal is to break down the stigma regarding invisible disabilities and remove barriers for people who deal with intersectional otherism."
"Education is one of our three strategic priorities at the Community Foundation," said Gail Fortes, SouthCoast Community Foundation Board Chair. "We believe that to improve the quality of life on the South Coast, education must be a central focus of our work, including giving young people the financial ability to attend college. So, in providing more than $620,000 in scholarships to 102 local students this year, we feel that we not only help an individual, but in the long run, we help to lift our entire region."
BankFive and its leadership value the importance that education plays in an individual's career.
"Congratulations to Malachia for her hard work and dedication. BankFive is so proud you are the inaugural recipient of the President's Scholarship,'' said BankFive CEO Anne Tangen. "BankFive is committed to investing in the communities it serves and creating educational opportunities for its young residents and future generations. We can't think of a better way to honor our previous Presidents and CEOs who devoted themselves to the same goals than by ensuring access to a bright future."

"Through our scholarship program, we have helped hundreds of South Coast youth, including myself, go on to successful college and professional careers. It can change the whole trajectory of a person's life, which is why it is such an honor to be part of the scholarship program," said Erik Domingues, MD, FAAD, Chair of the SouthCoast Community Foundation Scholarship Committee.
The scholarship period is closed for this year, but interested candidates can apply next year by visiting www.southcoastcf.org/scholarships.

--
Pictured L-R, Gail Fortes, SouthCoast Community Foundation board chair, Malachia Nobre, BankFive scholarship recipient, Anne Tangen, BankFive President & CEO)