The coronavirus pandemic has undoubtedly been tough on businesses of all kinds, and the hair care industry is no exception. Both Massachusetts and Rhode Island issued mandates back in March that closed all salons statewide, and most other states issued similar orders. Many beauty establishments in the United States are only now beginning the process of reopening. These types of closures could have proved disastrous for local business Abundant Beauty by Design, but with some fast thinking and creative forethought, Abundant Beauty has not only been able to survive COVID-19, but they've been able to grow their client base as well.

Abundant Beauty by Design is the brainchild of co-owners Patti Shaker and Angele Miller. Based out of Swansea, MA, the company launches and distributes innovative organic hair products to salons and beauty distributors across the globe. The company was formed in 2017, but Angele and Patti are no strangers to the health and beauty industries. Angele has more than 15 years of experience in natural health and brand development, and Patti has been in the beauty industry for almost 38 years.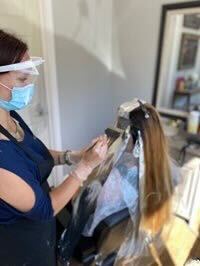 When COVID-19 hit, Abundant Beauty's main focus became finding a way to continue helping their customer base amidst salon closures worldwide. While it was clear that their clients were no longer going to have an immediate need for products like shampoo and conditioner, Patti and Angele knew that there were plenty of items they would need. Patti explains, "Being in the industry for so long, we had a good idea of what was going to be needed when the salons started reopening." They identified products that would be necessary for salons to adhere to new safety requirements, such as disposable capes and masks, face shields, and hand sanitizer.

Unfortunately, items like disposable masks and capes were not easy to find, but Abundant Beauty was not deterred. "Luckily, we have a contact whose brother owns a factory, so we were able to get things manufactured," says Patti. "But I'm not going to lie, it was not easy getting them here. Some of our shipments sat on a plane for 10 days in Chicago because things were so backed up, and then we had to truck them here. We also had some cargo that went missing. This is a volatile time and people were stealing masks, so we didn't know what to think. Luckily, our shipment ended up being located, but moments like that were very stressful."

Likewise, when hand sanitizer became nearly impossible to locate, Abundant Beauty by Design didn't throw in the towel. Rather, they thought outside the box and started manufacturing their own line of hand sanitizer. The company's determination to identify and acquire the products that salons would need to reopen has not gone unnoticed by their customer base. "We've received a lot of positive feedback from our clients," Patti says. "They've thanked us for thinking ahead on their behalf so they could successfully reopen, and we've even started serving a lot of distributors that we never did business with previously. We received a lot of new customers through word of mouth, since we had a lot of the products that the salons needed."

In addition to helping their expansive customer base of salons and distributors, Abundant Beauty's foresight and preparation have had positive local impact as well. After finding that many area businesses were unable to find masks, Abundant Beauty began selling some of their inventory to local businesses outside of their own industry. "It's been wonderful seeing local businesses banding together," Patti says.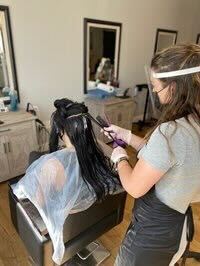 In order to keep up with the rising demand for their protective products, Abundant Beauty turned to BankFive for additional financing. "BankFive was great," explains Patti. "We went to them because we really needed something, like a line of credit, to be able to bring these supplies in fast. We worked with BankFive and our Business Development Officer was great. She coached us through the whole thing and got the line of credit done for us within 48 hours. We were totally impressed."

Another thing that Patti and Angele did was utilize social media to stay in touch with their clients and prospective customers. "While the salons were closed, we supplied online tutorials so beauty professionals could keep educating themselves," says Patti. "We actually ended up gaining a lot of new clients during that time because with all of the salons closed, our client base had time to go online, research and look for healthier products. And with this new normal in the world, we're really seeing that people are looking for healthier alternatives right now, and they're coming to us for those products."

Abundant Beauty by Design isn't letting the pandemic stop their forward momentum. As if they're not busy enough supplying salons with protective equipment, they are prepping for two new product launches. The first is a hair smoothing spray called "Inca Gold" that is anti-humidity and high in antioxidants and vitamins. They're also gearing up for the launch of "KocoVie", a whole hair care line made from every part of the coconut. The product line includes everything from a shampoo and conditioner to a coconut pure water mist for the hair and skin.

Overall, Abundant Beauty looks at this trying time as a learning experience. Patti explains, "We've really learned how to adapt. We've had to anticipate our clients' needs, and be there for them in whatever way we can. It's been a little stressful. Many moments have been very stressful, but we did it. At the end of the day, we're just like everybody else; we're all just trying to figure it out."

BankFive recognizes all of the hard work and quick thinking that Abundant Beauty by Design has displayed since the COVID-19 pandemic began. We are proud to call them a BankFive business customer, and we look forward to helping other small businesses navigate these difficult times as well.