When you walk into Barcelos Bakery in Fall River, Massachusetts, you're likely to feel as though you've just gotten off an airplane in Portugal. "We've tried to create a traditional, Portuguese café," says Sara Rodrigues who owns Barcelos with her husband Antonio.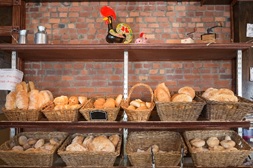 With Sara hailing from the mainland of Portugal, and Antonio from the Azores, Barcelos offers a variety of authentic São Miguel and Lisbon-style pastries, breads, sandwiches, and coffee drinks. And there's no cutting corners at Barcelos - they make all of their food right on the premises.
Sara and Antonio always knew that they'd like to own their own business. After leaving the Azores at the age of 16, Antonio started working at a bakery in New Bedford. According to Sara, "he started out as that kid in the back who didn't speak English. He washed all the dishes and swept the floor." When the bakery started bringing in pastry chefs from Lisbon, Antonio jumped at the chance to learn from them. It wasn't long before he was filling in for them on sick days.
Antonio and Sara married, and in 2004 Antonio learned that a bakery was for sale in Fall River. Living in New Bedford at the time, the couple didn't know the Fall River area well, but after setting out to explore the ins and outs of the city, they fell in love with it. "I really like the area," says Sara. "It reminded me of Portugal. You had the flower shop, the bank, the church, and the meat market down the street." The location seemed like a perfect fit.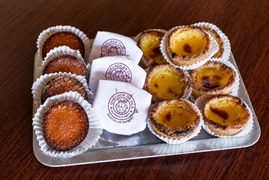 Sara admits that the prospect of buying a bakery was a little intimidating at first. "We were 24 and 25, so when we walked into most banks, they were like 'these kids don't know what they're doing!'" But according to Sara, BankFive saw them as the hard-working couple they were, and provided them with the financing necessary to purchase the business.
Over the years, Barcelos has grown from a two-person team to a thriving business with 15 employees. In fact, the bakery has been so successful that three years ago they expanded into the adjacent side of the building, allowing them to double their seating and provide an outdoor patio where customers can relax and enjoy an espresso or one of Barcelos' best-selling Portuguese custards.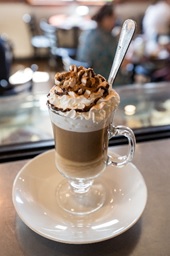 But all their success hasn't changed the intimate feel of the café. Sara still knows most customers by name, and knows what many of them want before they even walk in the door. Many of their regulars have been coming to Barcelos for years. Sara can even remember when some of their now-teenaged customers were in strollers!
Sara and Antonio have worked hard to grow Barcelos and maintain the welcoming, comfortable atmosphere that keeps their customers coming back. "We work a lot," she explains. "I tell a lot of people that this bakery became my third child. Just like you want to see your kids do well, you want the same thing for your business. You'll do whatever you can to keep it growing." And the whole family pitches in, with Sara's two daughters now working at the bakery alongside the couple.
We at BankFive recognize all of the hard work and dedication the Rodrigues family has put into Barcelos Bakery, and we're so proud to have helped them finance their dream. And we look forward to helping other customers like Sara and Antonio grow their businesses as well!