Brum's Ultimate Repair in Dartmouth has a customer-focused approach that stems from their all-hands-on-deck family business model. Elicia and Matt Brum, along with their three children, operate with transparency and honesty in order to keep customers coming back.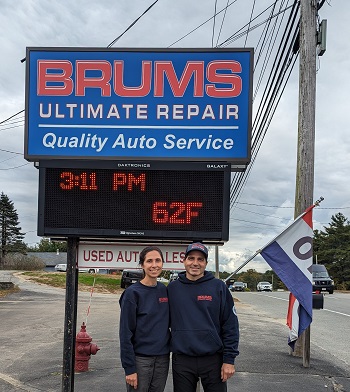 Matt was in the engineering field when the couple decided to move back to Massachusetts from Connecticut. Given Matt's passion for working on cars, they decided he should take his hobby to the next level and open an auto repair shop once they'd settled into their new home.
"Before Matt was a mechanic, he would come home from work and go to his garage and tinker with an old Porsche. He was just always drawn to cars," Elicia says. After putting up a few signs on Route 6 reading "Garage Wanted", Brum's Ultimate Repair ultimately found its home in Dartmouth 14 years ago.
Once the couple had their first child, Elicia decided to leave her position in education and join Matt at the shop, allowing her to be more present in their child's life. She now oversees front end operations at Brum's – filling whatever role is needed, whether it be a second pair of eyes on invoices, scheduling appointments, or being a parts runner.
Taking the leap from a career in education to working at the shop full time required some perseverance, but ultimately Elicia says, "being able to work together with Matt, and towards a common goal has been a blessing for our marriage." Once they decided the family was "all in", there was no turning back.
Matt and Elicia's goal is to pass the shop down to their children one day, and they'll likely be very prepared, having grown up around the family business. Elicia says, "we had a Pack n' Play set up in the customer lobby for all of their toddler years. Now our oldest works in the shop a few hours a week after school. Being able to teach our children the importance of hard work, and how to interact with customers, has been really great."
Brum's Ultimate Repair now employs six people, and everyone from the auto technicians to the parts manager understands and values the standard of care that Matt and Elicia expect. "Our customers value our communication," Elicia says. "They want quality work at a good price, and we deliver that and get the job done in a timely manner – and we get it done correctly."
Brum's Ultimate Repair is always looking to improve their processes to benefit their customers as well. This past year, the shop implemented a system that allows customers to see any photos that the technician takes of their vehicle and any notes made during the repair.
With some help from BankFive Commercial Lender Luke Lehman, Brum's Ultimate Repair joined the BankFive family after being unhappy with their previous bank. "It was such a smooth transition moving our accounts to BankFive. Everyone there has been so friendly helping us with any issues that come up with our bank accounts or loans," Elicia says.
As the Brum family looks toward 2024 and beyond, Elicia says they hope to remain a part of the South Coast community. "We work on every customer's car like it's our own vehicle – putting our best foot forward. We've built relationships with customers and try to support them in their personal lives as well. Building those relationships has been so special," she says.
It's been fourteen years since Brum's Ultimate Repair opened its doors, and Elicia is proud of what she and Matt have built and continue to build. She says it has been worth all the hard work and dedication, and her best advice for other small businesses is to "keep persevering".
We're thrilled to serve small businesses like Brum's Ultimate Repair and are so proud of their successes. We look forward to helping other small business owners in the South Coast community grow and operate their businesses as well.